Center for the Urban River at Beczak Lauded by New York State Outdoor Education Association
Staff and students from Sarah Lawrence College's Center for the Urban River at Beczak (CURB) were praised and featured at the New York State Outdoor Education Association's (NYSOEA) Annual Conference, held November 4 in Fishkill, New York. CURB's Educator and Science Coordinator Katie Lamboy and Sarah Lawrence student Ishika Joshi '25 each received awards recognizing their outstanding work in the education field.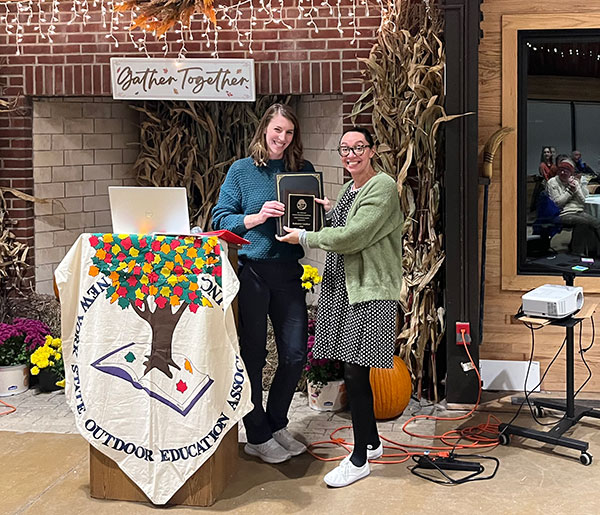 Lamboy received the Outdoor Educator Award, which honors "an outstanding classroom teacher, environmental educator, or interpreter who has used the outdoors to enrich curriculum and interpret the natural world in a way that has expanded the environmental appreciation of children or adults".
Since 2019, Lamboy has been an inspiring leader for CURB, the community it serves, and within the broader environmental education field. She effortlessly creates connections between CURB's educational and research programs, most notably in the Center's Training Innovative and Diverse Environmental Scientists (TIDES) programs that enlists paid high school research interns. She also actively encourages colleagues to consider the inclusivity and cultural relevance within programming, and does so herself by creating instructional guides for lab procedures and bilingual fliers and signage, challenging science's use of harmful terminology, and creating space for student agency and input.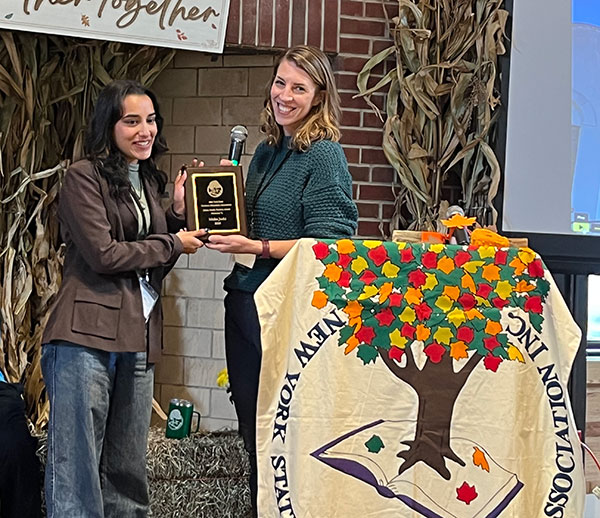 Joshi, who recently appeared in Sarah Lawrence's episode of The College Tour on Amazon Prime, received the Julian Smith Student Award, which recognizes "a deserving undergraduate or graduate student who has shown a commitment to outdoor education through study, leadership, volunteer work, and seasonal employment".
Joshi's contributions at CURB are as extensive as they are remarkable, and include working as the Mellon Foundation grant-funded SLICE intern and as CURB's Summer Science intern. As CURB's SLICE intern she rethought and redesigned pedagogical material on display at the Center with the goal of drawing in a broader and more diverse audience, and went on to conceive and organize a successful open-mic storytelling event for Earth Day. As CURB's Summer Science intern she mentored the Blue Team, skillfully navigating the complexities and fulfillment of empowering community members and youth in environmental justice issues and instilling the importance of being able to communicate the significance of their research.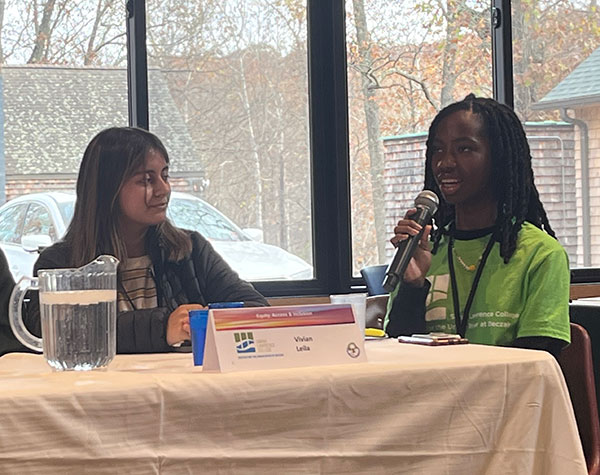 In addition, two of CURB's former Blue Team high school interns were featured in a Youth Panel organized by NYSOEA's Equity, Access, and Inclusion Committee. Vivian Navarrete and Leila Simmons were joined by youth from Groundwork Hudson Valley, Kingston YMCA Farm Project, and Kite's Nest in a discussion about their experiences working in environmental education, what they learned, what's important to them, and how their experiences impacted their lives.
Established in 1968, the New York State Outdoor Education Association is a non-profit, all-volunteer organization supporting outdoor and environmental education, outdoor recreation, and interpretive services. Members make up a broad network of students and professionals working and learning together, from classroom teachers and college professors to naturalists and interpreters, and from students and youth leaders to parents and outdoor recreation specialists.